Another big update, Charger Alert v2.5 for BlackBerry 10 has been released at BlackBerry World.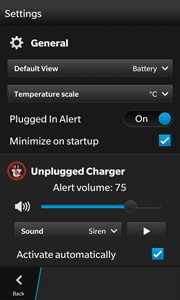 You asked for the option to have the alerts kept on, and now you've got it with version 2.5.
In the settings menu, simply check 'Activate Automatically' for those alerts you want turned on as soon as they're enabled.
In addition, you can opt to have the app minimize on startup. Combined with the above settings, you can have Charger Alert up & running in the background with just one tap!
Finally, the 'Plugged In Alert' provides a nice audio notification whenever you plug your device in to charge.
Here's a full list of what's new in v2.5
Big improvements in the settings and customization of the app.
Plugged In alert provides notification when you connect the device to a charger.
Alerts can now be activated automatically from the settings menu.
Option to have the app minimized when started.
Improved audio playback of alerts.
Ability to browse and select device notification sounds for use as alerts.
Low battery level indicator now based on user setting.
Other minor bug fixes and improvements.