Charger Alert for BlackBerry 10 has reached version 2 and is now available at BlackBerry World.
This big update brings about a bunch of improvements and new features.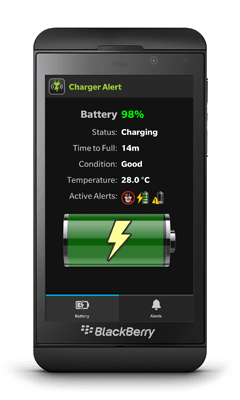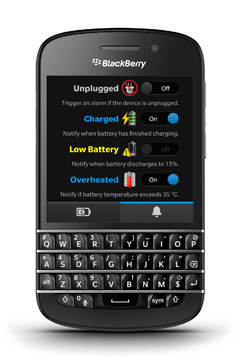 Here's what's new in v2.0
Added a low battery alert to warn when the battery drops to a low level.
Added additional battery information, such as the time until full or empty. (Note: these times are only estimations provided by the system.)
Split the original screen into two; one for the battery information, and one for the alerts activation.
Provided the option to choose the default startup screen.
Improved audio playback.
Included a play button in the settings to sample the different alert sounds.
Updated to support the new BlackBerry Z30 device.
Improved checks to automatically restore previous Pro upgrade purchase if the app is reinstalled.
Replaced ads with custom ones.
Minor bug fixes.