It's finally here! The (very) long awaited Charger Alert v2.0 for Android has been released on the Google Play store.
When Charger Alert was first released over 9 years ago on Android, it was just a simple app that alerted you when your device charger was disconnected from the power supply. This was to let you know if someone was trying to take your device or just the charger to use for themselves (because they lost theirs again!).
Since that time, Charger Alert has come a long way with a lot more features and improvements (and with more to come!).
Version 2.0 of Charger Alert is a complete rewrite from the ground up, building in all the features that were missing in version 1.0.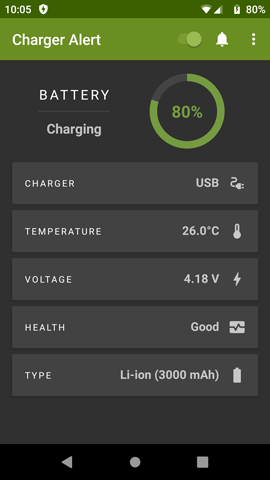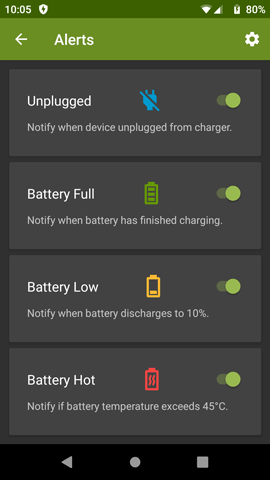 Using modern Android designs and best practices, Charger Alert v2.0 includes all the essential features to get the best out of your battery, as well as help protect your mobile device.
Features in v2.0
Displays your battery information:

Battery status, e.g. charging or discharging.
Battery charge level percentage in a circular indicator.
Battery charger if plugged in e.g. USB, AC, Wireless.
Battery temperature in either Celsius (°C) or Fahrenheit (°F).
Battery voltage measured in volts.
Health of your battery.
Battery type (e.g. Li-ion) and manufactured mAh capacity.

Ongoing notification in the status bar with your battery information.
Alert when you successfully plug your device in to charger.
Alert you if your device is unplugged from the charger when locked.
Alert you if your battery has finished charging.
Alert you if your battery is running low (choose low level in Settings).
Alert you if your battery is running hot (choose temperature in Settings).

Pro version

Settings to customize the app to your preference.

Pro version