For all you loyal pre-BB10 users, Charger Alert has been updated for BlackBerry OS (BBOS) to include all the new features available in the BlackBerry 10 version.
Charger Alert v1.3 for BlackBerry OS is now available on BlackBerry App World.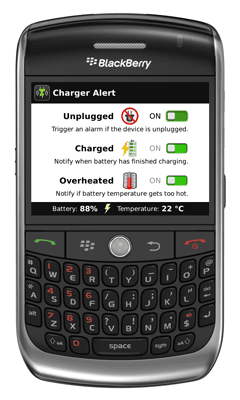 Here's what's new in v1.3 for BBOS
A list of version changes is now displayed whenever the app is updated.
Added a 'Charged' alert to inform you when the battery has finished charging.
Added an 'Overheated' alert to inform you if the battery temperature is overheating.
Improved the user interface layout for different screen sizes.
Alert messages are now added to the application message folder.